Frank Viola's new book,
God's Favorite Place on Earth
, has just released. If you get the book between May 1
st
to May 7
th
, you will also receive
25 FREE books from over 15 different authors
.
Click
GodsFavoritePlace.com
to ordering information and easy instructions on how to get your 25 free books.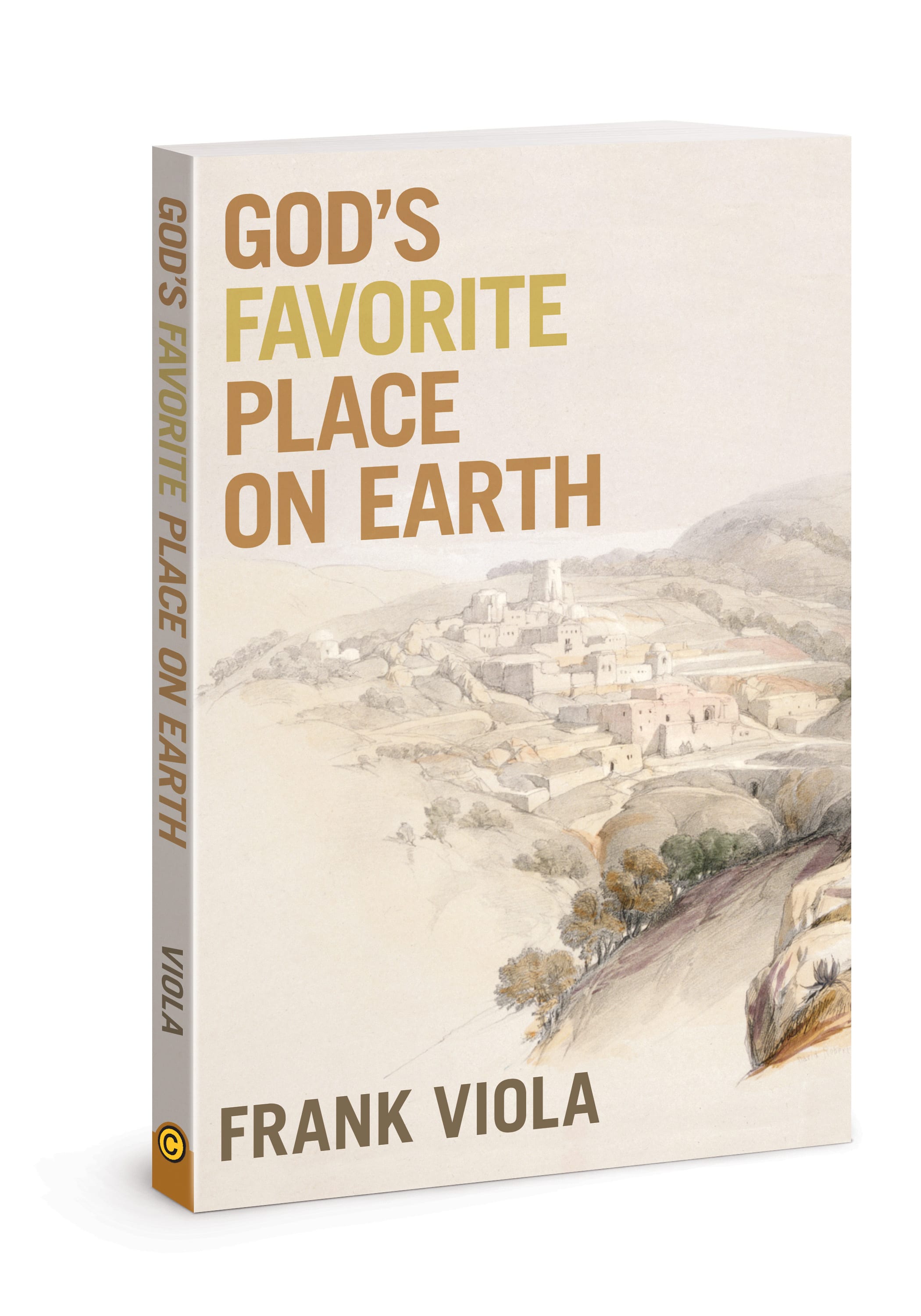 Recommendations
"In Frank Viola's hands, the story of Lazarus—like Lazarus himself—once again comes to life. In a world where hope is battered and life can so easily beat down the human spirit, we are reminded once more of the possibility of becoming a host of Life."
John Ortberg, pastor and author of Who Is This Man?
"God's Favorite Place on Earth realigned my heart toward Jesus and His mysterious, confounding, surprising, beautiful ways. It's not often I learn something new when reading a book, but Frank Viola's sharp storytelling and insightful interpretation made me hunger for more of the real Jesus."
Mary DeMuth, author of Everything: What You Give
"God's Favorite Place on Earth is the kind of book I've discovered I need to periodically find and read. Frank Viola's pen and voice are consistently both penetrating and trustworthy. Beyond his invitingly beautiful writing skill—which makes reading a joy and a sight-seeing tour that brings God's Word into 3-D when he relates narrative passages, I'm grateful for the depth of his themes."
Pastor Jack Hayford, Chancellor of The King's University, Los Angeles
"This is a masterfully engaging book that distills the vision of the Christian life into one focused quest: To be God's favorite place on earth today. I recommend this little volume to all Christians and Christian leaders."
Mark Batterson, New York Times bestselling author of The Circle Maker
"Combining masterful storytelling, historical knowledge, biblical insight and practical wisdom, Frank artfully uses the Gospels' depiction of Lazarus and the small town of Bethany to lay out a beautiful and compelling vision of a God who longs to make every human heart and every church 'His favorite place.' This is a beautifully written, timely, prophetic work all would benefit from reading!"
Greg Boyd, pastor and author of Benefit of the Doubt
"A lot of people write books, Frank writes stories and in this one we once again see why he's such a master. Honored to call him a friend, excited to call him an author I love to read."
Jon Acuff, bestselling author of Start, Quitter, and Stuff Christians Like
"Frank Viola surpasses himself in his best book yet—a work of serene, soaring magnificence. Part novel, part biography, part theology, part Bible study, Frank's imaginative touch and command of prose haiku leaves the reader resolved more than ever to be a Bethany—God's favorite place on earth."
Leonard Sweet, Drew University, George Fox University, sermons.com
"Reading God's Favorite Place on Earth by Frank Viola, my soul began to burn from Chapter One. To delve into Lazarus' heart and thoughts … I received a beautiful glimpse into the life of Christ on earth. Lazarus' stories make a perfect foundation for God's truth, God's intimacy. I can't wait to share this book!"
Tricia Goyer, USA Today best-selling author of 35 books
"In spite of my Ph.D. in Theology, I had never considered the importance of Bethany in the life of Jesus."
Phil Cooke, media consultant and author of Unique
"The best thing I can say about Frank Viola is this: When I read his books—and I read them all—I don't think much about Frank Viola. I think about Jesus. And I learn to love Him more. This book is no different. Read it, and you'll find yourself thinking, if you're like me, 'I knew Jesus was great, but… Wow!' And that, at least from me, is as good as it gets."
Brant Hansen, Radio personality and blogger